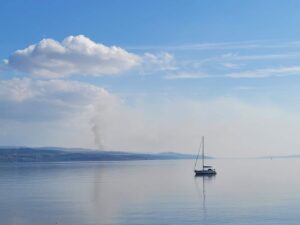 (Image: M P McKellar)
Jesus said "Peace be still!"     Mark 4:39 NKJV
God of peace, we think of the story of the disciples struggling to row across Lake Galilee in the middle of a raging storm. They were making no progress, the wind was howling and gigantic waves threatened to overturn the boat.  The disciples were terrified and cried out to Jesus who was asleep in the bottom of the boat "Lord save us".  Jesus stood up and commanded the wind and waves to be still.  And the wind ceased and there was a great calm.
God of peace, as we reflect on this familiar  story in Mark's gospel, may we take just a few moments to be still before you, to quieten our minds and to breathe in your peace……
Jesus said
"Peace I leave with you;
My peace I give you.
I do not give to you as the world gives.  
Do not let your hearts be troubled and do not be afraid."
John  14:27 NIV
We thank you that you are a God of peace.  When circumstances in our lives, or events in the world leave us feeling anxious or afraid, may we remember to call out to you. We pray for your peace in our deepest being. Please settle any restless thoughts and bring your calm.  We thank you for those who work to bring peace. We pray for peace in our world. We lift before you those who have no peace, those who have no-one to pray for them and anyone you have placed on our hearts today. Would you lead them to a place of peace in Jesus. Thank you. Amen.
Ruth Rushworth