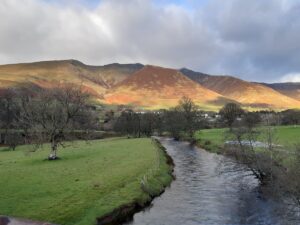 image:R.Rushworth –View of Blencathra, Lake District, January 2022 )
Our reflection today was written by Ruth Rushworth – thank you Ruth.
Isaiah 41:10 (NIVUK)
'So do not fear, for I am with you; do not be dismayed for I am your God. I will strengthen you and help you; I will uphold you with my righteous right hand.
Lord of love, Lord of life, your guiding presence leads us in ways that are right and true, you bring us to green pastures, to quiet waters, you refresh and restore our very being, you strengthen us, you bless us and hold us close to you.
As we take a moment this day to be still, to gaze on you and reflect on your love, we thank you for Jesus and his abiding love; for his willingness to come to this earth and show himself as the way, the truth and the life. May our lives reflect his love.
We ask for your blessings in our lives, our homes, our famililies, our communities and our world.
May there be welcome and acceptance, not rejection and disapproval,
May there be love and tolerance, not hate and anger,
May there be peace and calm, not conflict, anxiety and stress,
May there be laughter, joy and hope, not depression and sadness.
Jesus prayed to the Father saying 'all I am I give you, everything I have is yours' (John 17:10)  May we in response offer ourselves and all we have and are to Jesus, and accept afresh his wonderful offer of forgiveness, life and blessings in his name.