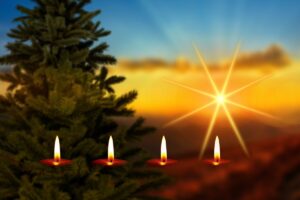 (image:George Lloyd)
Romans 15:13 ESV
'May the God of hope fill you with all joy and peace in believing, so that by the power of the Holy Spirit you may abound in hope'.
Gracious God, as we move into the week before Christmas, we take a moment to pause and turn to You in prayer. At a time when the expectations are that we will be joyful, there are so many different issues that make it difficult for people to feel any sense of joy. For a second year we approach Christmas dealing with the additional anxieties and concerns of the pandemic. Our lives continue to be tinged with uncertainty and insecurities. And yet Your Word, as found in the bible, tells us that joy in its deepest sense is about assurance, the assurance of knowing You are with us at all times, the assurance that nothing can separate us from Your love, the assurance that You sent Your Son to bring light into our world to show us how to love, and to assure us that we are truly loved by You. And so, as Christmas approaches, give us the confidence to feel that assurance, give us the strength to allow that assurance to support and sustain us, and give us the energy and the inspiration to share the message of that assurance within our communities. May we be united in Your love. In the name of Jesus we pray, Amen.