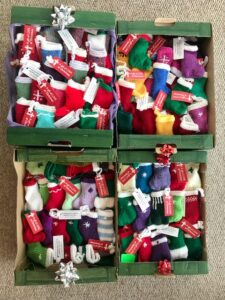 (image:George Lloyd)
Romans 15:13 ESV
'May the God of hope fill you with all joy and peace in believing, so that by the power of the Holy Spirit you may abound in hope'.
Gracious God, as we lit the Advent candle of Joy in our Churches to mark the 3rd week of Advent, and we look at these knitted stockings, boxed ready to be delivered to schools and care homes, we give thanks for all those bringing joy into the lives of others, in what is still a dark time for many. For those continuing to ensure the roll out of the vaccination programme, we give thanks. For every angel and inn keeper in school nativities being prepared in nursery and schools up and down the country, we give thanks. For those knitting and crafting gifts for our hospitals and care homes, we give thanks. For those unseen acts of kindness, the phone call, the message, the listening ear, we give thanks.Lord God, we know that You are a God who understands His people, who empathises with our concerns and anxieties as Covid continues to affect our daily living in so many different ways. And so, as we give thanks for the beams of light that radiate in our communities, help us to feel the assurance of Your presence with us, help us to have the faith to continue to put our trust in You, and may we continue to focus on the coming into the world of the Christ Child, our bringer of light and joy. In His name we pray, Amen.