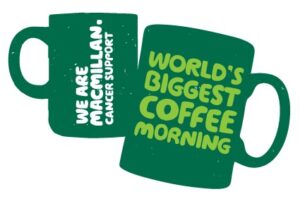 (image:commons.wikimedia.org)
2 Corinthians 1:2-4        ESV
'Blessed be the God and Father of our Lord Jesus Christ, the Father of mercies and God of all comfort, who comforts us in all our affliction, so that we may be able to comfort those who are in any affliction, with the comfort with which we ourselves are comforted by God'.
Gracious God, as the World's Biggest Coffee Morning will be celebrated today, we give thanks for the work of Macmillan Cancer Support. We are grateful for every aspect and every member of this organisation, who seek to support and care for cancer sufferers and their families. We ask that You bless every part of their work.
So too Lord, we lift before You all those dealing with the trauma of cancer at this time. We know that this is an illness that brings with it pain, anxiety and uncertainty and so we ask for the power of Your healing and Your compassion in every situation. Give assurance and courage to all those who in need today, Lord, and may Your presence be felt in our homes, our hospitals, and our hospices.
We give thanks for the expertise and energy of all those searching for cures and new treatments, and look to the day when cancer will be eradicated.
Finally Lord God, we acknowledge that the pandemic has had a tremendous adverse effect upon the situations of many, as diagnosis and  treatment may have been delayed. So too, charities, such as Macmillan, have been unable to carry out fundraising events to sustain their outreach. And so, as we move forward, help us as communities to reach out and support all those affected by cancer. In the power of Your love and healing we pray, Amen.