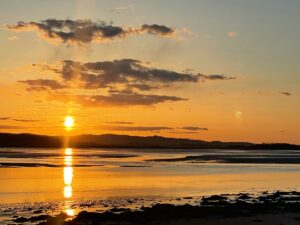 (image: S.L.Guenault)
PSALM 46:10
'Be still and know that I am God'.
Gracious God, as we approach the middle of the week, and the sun comes out to shine and brighten the landscape, we take a moment to be still in Your presence, to bask in the warmth of Your love.
I invite you to reflect upon a prayer written by Margaret Langdon. Thank you Margaret.
BE STILL
BE STILL
Oh I wish I could be!
But there's so much to do
BE STILL
I would like to be calm
But I get so uptight
BE STILL
I really ought to rest more
But I can't find the time
BE STILL
How I long for some peace
But life's clamour just goes on
BE STILL AND KNOW THAT I AM GOD
NOT YOU. LET ME SHARE YOUR BURDENS
COME AND BE STILL
BE STILL AND KNOW
If I'm still I know I am surrounded by your presence
Help me to be still
If I'm still I know God is really in charge of everything, not me
Help me to be still
If I'm still I know that peace that passes understanding
Help me to be still
If only for a moment!
BE STILL AND KNOW THAT I AM GOD
Wow! That's a bit mind blowing! We can really know that God exists!
Even when we doubt. Even when we can't understand things
GOD IS GOD!
We don't have to have all the answers. We don't always have to be in control
We don't have to be perfect. We are allowed to be human.
HE IS GOD
(Margaret Langdon October 2018)