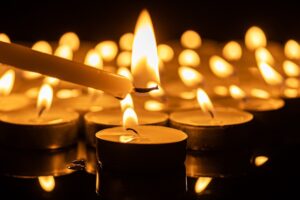 (image: www.pixabay.com)
1 Thessalonians 5:11   (ESV)
'Therefore encourage one another and build up one another, just as you also are doing'.
Gracious God, as 'Captain Tom 100' weekend begins, we remember how Captain Tom told the world that "tomorrow will be a good day". Today we pray especially for those who face the future with anxiety or trepidation, who find it difficult to face tomorrow. May we continue to nurture communities so that their voices will be heard. May those in need of assurance feel the power of Your presence in their lives this day. As we are asked to consider doing 100 things for someone else over the weekend, we pray that you will help us to do what we can to make a happy tomorrow for someone, be it sharing a smile, sending a message, holding them in prayer, whatever we can do practically to make a difference to someone else. And finally Lord God, help us all to face tomorrow entrusting ourselves into Your care, Your guiding hand and Your mercy, acknowledging You as our Creator God. In the name of Jesus we pray, Amen.