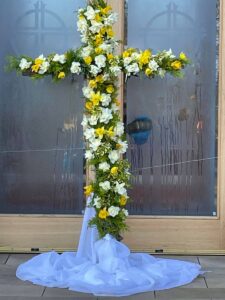 Luke 24:36     NIV
Jesus Appears to the Disciples
'While they were still talking about this, Jesus himself stood among them and said to them, "Peace be with you."
As we remember the appearances of Jesus following His resurrection, I invite you today to pray using a beautiful reflection composed by Margaret Langdon.
IN THE UPPER ROOM
You came
Although they were frightened
Although they had doubts
Although they couldn't decide what to do
You came
You came
And wished them peace
And brought them hope
And gave them purpose
You came
You came
And your love overwhelmed their fear
And their doubt and indecision
And your presence brought strength and revelation
…. my Lord and my God ! …….
TODAY IN OUR UPPER ROOM
You come
Although we fear the future
Although we have so many anxieties
Although we don't know where things will lead
You come
You come
And bring us peace in our hearts
And hope for the future
And courage to plan ahead
You come
You come
And we are overwhelmed by your love
And we rest in your presence
And we cry out to you for inspiration
….. Our Lord and our God !  ……