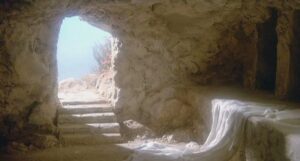 Romans 8:38-39      (NIV)
'For I am convinced that neither death nor life, neither angels nor demons, neither the present nor the future, nor any powers,  neither height nor depth, nor anything else in all creation, will be able to separate us from the love of God that is in Christ Jesus our Lord'.
Gracious God, as we move on from the Easter weekend celebrations, we reflect upon the feelings of the early followers of Jesus who were left still trying to make sense of His crucifixion and resurrection. Their minds and hearts must have been bursting with joy, bewilderment, uncertainty, excitement and anticipation of what was to come of Jesus' ministry. And yet, as people living in the light of the resurrection today, we know that the events of Easter brought hope into our world, an everlasting hope with the assurance that nothing, not even death itself, can separate us from the love of God and from a living relationship with Jesus. And so we journey on in faith, with that love and hope in our hearts and minds, this day and in the days to come, Amen.