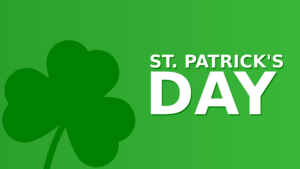 Matthew 28:19 Good News Translation
'Go, then, to all peoples everywhere and make them my disciples: baptize them in the name of the Father, the Son, and the Holy Spirit',
Happy St Patrick's Day everyone. On St Patrick's Day we share in a prayer by St Patrick.
May the Strength of God guide us.
May the Power of God preserve us.
May the Wisdom of God instruct us.
May the Hand of God protect us.
May the Way of God direct us.
May the Shield of God defend us.
May the Angels of God guard us.
– Against the snares of the evil one.
May Christ be with us!
May Christ be before us!
May Christ be in us,
Christ be over all!
May Thy Grace, Lord,
Always be ours,
This day, O Lord, and forevermore.
Amen.