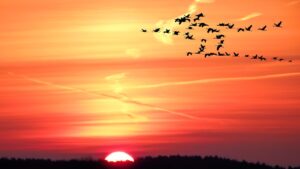 'The Lord's unfailing love and mercy still continue, Fresh as the morning, as sure as the sunrise. The Lord is all I have, and so in him I put my hope'.
Gracious God, we thank You for the gift of this new day. We thank You for its possibilities and the opportunities it will give us to shine love and hope into our world, through a hand outreached, or a prayer spoken. We praise You for the beauty of the sunrise, for the light of the midday sun as it radiates down upon us and for the certainty that the sun will set, whatever challenges and difficulties the day has brought. Living Lord, just as the sun continues to rise and fall, You continue to love us and walk with us, wherever the day takes us. And so, in this knowledge, help us to carry the hope and peace in our hearts that comes from being truly loved by You and may we, in grateful thanks, commit the day ahead in service to You. In the name of Jesus we pray, Amen.
You are the peace of all things calm
You are the place to hide from harm
You are the light that shines in dark
You are the heart's eternal spark
You are the door that's open wide
You are the guest who waits inside
You are the stranger at the door
You are the calling of the poor
You are my Lord and with me still
You are my love, keep me from ill
You are the light, the truth, the way
You are my Saviour this very day.
(celtic oral tradition – 1st millennium)