Your Word Endures Forever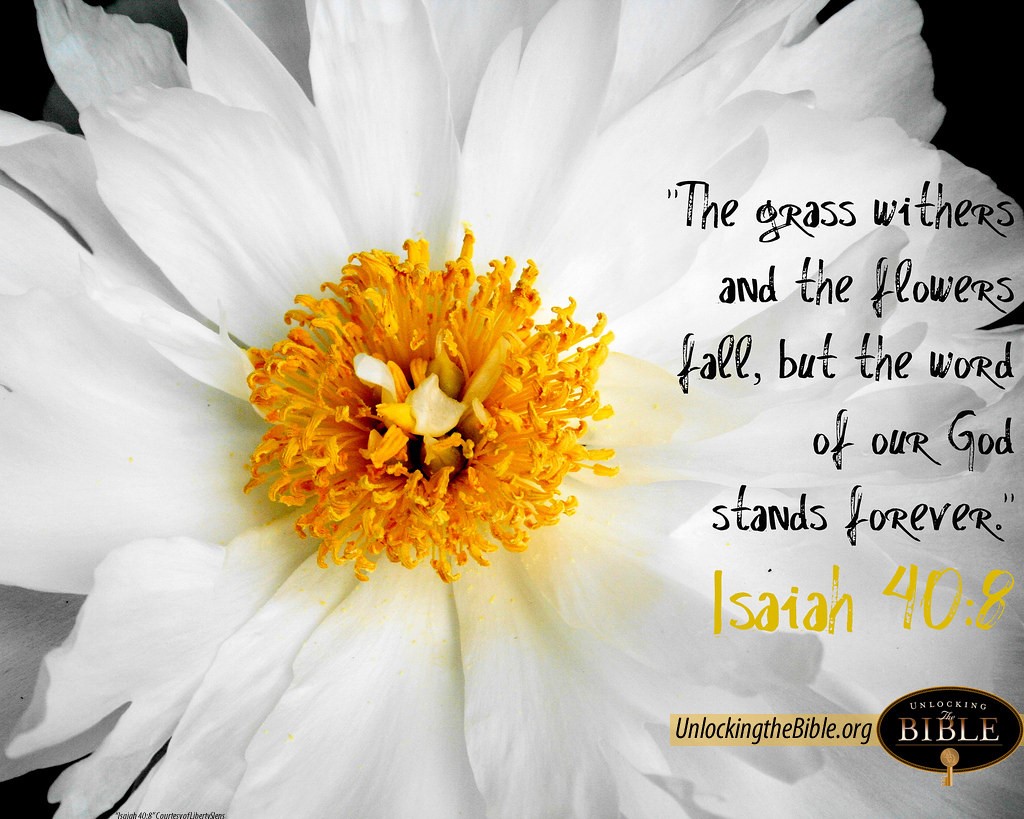 Gracious God, this week so many words have been spoken, words that have caused anxiety,  fear and despondency. But so too, there will have been words that have spoken kindness, encouragement and joy. As we consider the effect words have upon us, we remember that Your Word always speaks the truth, Your Word always brings comfort and hope, Your Word endures forever. Even in the difficult times, Your Word lives amongst us through Jesus Christ, Your Son. And so, even in the challenging, difficult days, we give thanks and take assurance from knowing that we have the Good News of the Gospel of Jesus to raise us up and give us hope, not only for today, but in the days to come. Amen.
Previous Reflections
The Steadfast Love of The Lord Never Ceases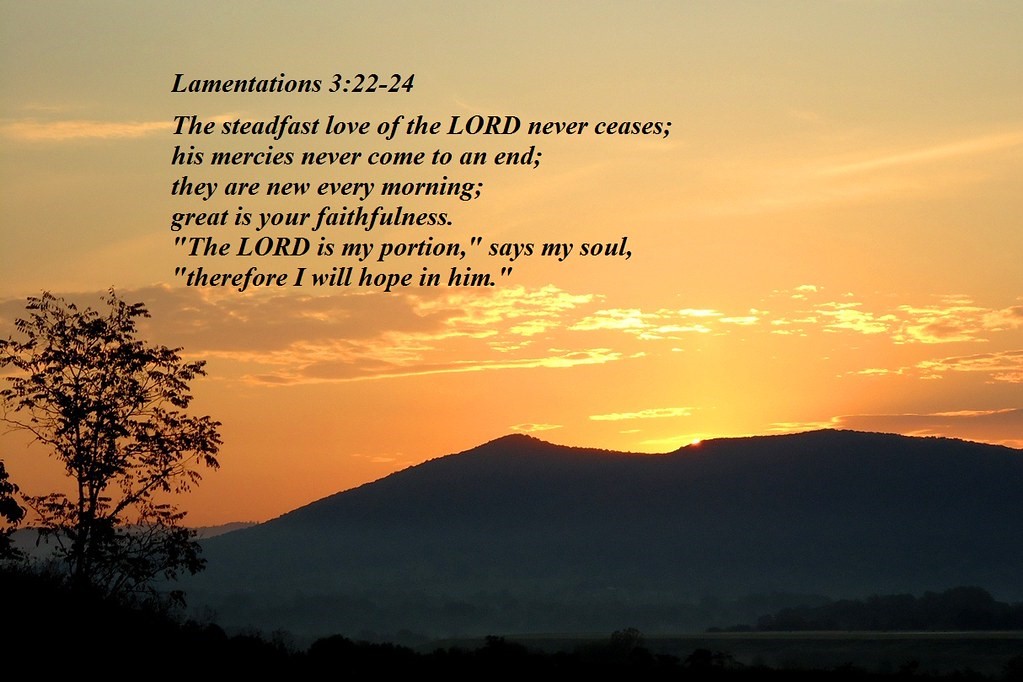 Gracious God, today marks a beginning for many people in our communities. Children and staff will continue to return to school after many months of disrupted learning. As the Methodist Church begins a new year today, Ministers will start new Church appointments in this difficult working climate of social distancing. And so for all those who today marks a new start, we pray for Your presence, Your strength and Your guidance. And we acknowledge too Lord, that every day is a new beginning for each and every one of us. And so we reflect upon Your steadfast love, Your faithfulness to us and we give thanks. May we continue to place our hope and our trust in You. In Jesus name we pray, Amen.
We Place our Lives into Your Hands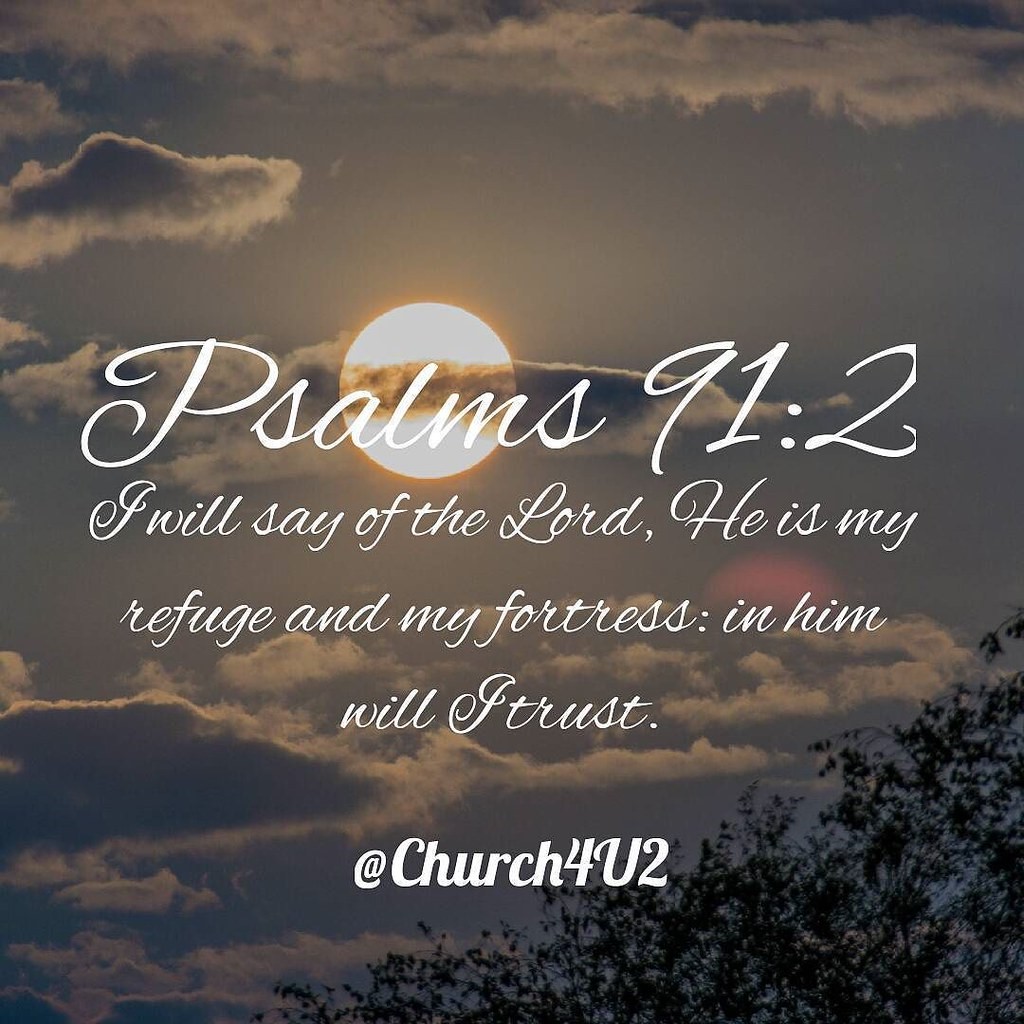 Gracious God, at the start of a new week, we place our lives into Your Hands. In the week ahead, whatever the highs, the lows, the challenges, the disappointments, the achievements, the sadnesses and the joys, we place our Trust in You. We are Your people, and so we commit our lives this week in service to You. May You be at the very centre of our being and may we be aware of Your presence, guiding, leading, assuring and encouraging us to be the people You would have us be. In the name of Jesus, our Saviour we pray, Amen.
Lord, Make me an Instrument of your Peace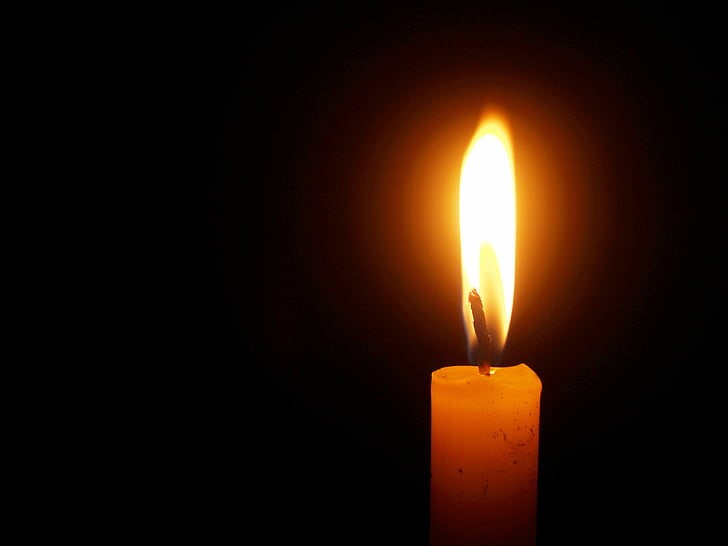 Good morning everyone. This morning, a victim of the terrorist attack on a Mosque in New Zealand in March 2019, appeared on Television and publicly asked that we as a nation pray for all those affected by this tragedy, as sentence was passed yesterday. The grief and the suffering from lasting injuries continue, as do the emotional scars. And so today I respect that wish and ask that we remember all those affected in our prayers. I offer you a prayer for peace by St Francis.
Lord, make me an instrument of your peace,
Where there is hatred, let me sow love;
Where there is injury, pardon;
Where there is doubt, faith;
Where there is despair, hope;
Where there is darkness, light;
Where there is sadness, joy;
O Divine Master,
Grant that I may not so much seek
To be consoled as to console;
To be understood as to understand;
To be loved as to love.
For it is in giving that we receive;
It is in pardoning that we are pardoned;
And it is in dying that we are born to eternal life.
Psalm 46:4
Gracious God, as we approach the end of the week we bring our prayers before You. In a moment of quiet we lift before You any concerns we have for other people, or any situations that rest heavy on our hearts.
And now we ask for Your blessing, upon our family, our friends, our neighbours, our Church community, all those in need of Your blessing this day.
And finally we give You thanks for all You have done to assure us of Your presence and Your love for us, in the past week. May we continue to place our trust and our hope in You.
We bring all our prayers before You in the name of Jesus, acknowledging Him as Your Son, and our Lord and Saviour, Amen.
For I Know the Plans I Have for you
Gracious God, this morning we lift before you all those young people receiving GCSE results. Lord, we appreciate how stressful this is for the youngsters and their families, particularly this year as their education has been disrupted, but we know you have a purpose and plan for each and every one of them. And so today, may they be assured of Your presence, may they be surrounded by support networks to guide them through, and may we as a community continue to nurture the future of our young people with empathy, wisdom and love. In Jesus name we pray,Amen.
I Will Strengthen you
Gracious God, this morning we come to You in prayer for the mental health of our nation. This virus effects us all in so many different ways Lord, and we know the strain that it puts on the mental well-being of many people, of all ages. We pray for all those in need of medical support that resources may be made available. We pray that those in authority will recognise the need to provide effective, professional support and we pray for all health care professionals working to help address mental health issues. So too, we pray that as communities we will continue to nurture and support those who are vulnerable and in need of conversation and a listening ear. And we pray for ourselves Lord, however we are feeling at this time. You are our strength and our support and for this we give You thanks. As we take a moment to enter into Your presence, calm any insecurities or concerns we may have this day and give us a sense of Your peace. In Jesus name we pray, Amen.
God is our Refuge and Strength
Gracious God, as Storm Francis moves over our nation this morning and we hear of rescues already taken place, we place all people into Your safekeeping this day Lord. We pray especially that You will be with all the emergency rescue teams, our Police force, Fire Brigades and Ambulance Service. We pray for our Coastguards, RNLI, Mountain Rescue teams, Air Sea Rescue teams and all other rescue agencies. So too we pray for all those who will go out to mend power lines, clear flooding, protect people's homes and businesses.We take the opportunity today Lord, to give grateful thanks for the work of all these organisations who come to our rescue when we are in need. May You pour out Your blessing on all those who will respond to the needs of others today and everyday. May they feel the assurance of Your presence, Your strength, and Your protection as they serve others. In the name of Jesus we pray, Amen.  Amen.
Trust in Him at All Times
Gracious God, when we come to You in prayer, so often we turn to the words of the psalmist. In the Psalms we hear the voices of a people who laid their desires, their anxieties, their joys, their hopes and their vulnerabilities before You. And yet in You they placed their trust, in You they sort refuge. And so Lord God, at the start of a new day, we sit for a moment in the quiet and bring ourselves to You, knowing that You love us for who we are, and that You want nothing more than that we share today with You. Help us to open our hearts and not be afraid to be open and honest with You about how we are feeling this day. May You walk beside us and through the power of Your Holy Spirit, may we feel the joy, the peace and the security that comes from being loved by You. We praise You and we thank You for your unfailing love. In Jesus name we pray, Amen.
Psalm 36:7
Gracious God, we come to You in prayer this morning remembering the needs of all our young people. As the debate continues over A level exam results, we ask that you will be with all those experiencing disappointment and heartache at this time, as they reassess future plans. We know Lord that many youngsters will be waiting anxiously for GCSE results this coming Thursday. Please give them a sense of calm and assurance amidst the stress of waiting. We pray that authorities adopt systems that ensure fair and just results for all our children. And so too Lord, we pray for the many young people seeking employment in this increasingly difficult work environment. Lord God, we acknowledge the impact the health crisis is having on the mental well-being of everyone in society, but today we particularly lift before You the emotional concerns of our younger generation, as they seek to make sense of the instability of the world around them. As we place them under the shadow of Your wings, give them courage, give them assurance and give them peace. In the Name of Jesus we pray, Amen.
Restoration, Justice, Equality and Healing
Gracious God, we thank you for creating a world of ethnic diversity and yet too often we do not honour that diversity. We thank you for sending Your Son Jesus to preach a message of justice and equality for all people, and yet too often we fail to heed that message. Loving and forgiving God, we ask for forgiveness for the times when we have not allowed the voices of our brothers and sisters to be heard, for the times when we have failed to speak out and allowed prejudice to hurt and destroy the lives of others. God of Grace, we pray for all those whose lives are disadvantaged simply because of the colour of their skin. We come before you in the name of Jesus Christ who taught us to love, honour and respect all people equally, regardless of ethnicity, gender or social status.  May we as a Church, seek to bring restoration, justice, equality and healing into our communities, and may we commit to a vision of a world where 'your kingdom come', the coming of a Kingdom where the voices of all your people are heard. Amen.
Thy Kingdom Come
For the next 11 days our prayers have been written by Thelma Commey, Methodist Youth President 2019/2020, for the global prayer initiative 'Thy Kingdom Come'.
Reflection:
John 3.16 is one of the best-known verses in the Bible because it emphasises God's love for everyone. Jesus didn't just love those who are easy to love, he loved the people who hated him, who despised him; he loved the people that others looked down on. He didn't just love some people – he loved the whole world.
This speaks about the action that God took to show us love – it shows us how love is an active word. God loved us so much that God sent Jesus for us. Not because of anything that we did, not because we deserved it; but because God is a loving God. God's love is selfless and sacrificial and shows us what we are worth. If God can love anyone, the least we can do is to do the same.
Prayer:
Loving God, thank you that you gave your Son, Jesus, for me and for all people. Help me accept the love that you showed me in sending your Son. I pray for my  friends. Please open their hearts to your love. And teach me to love more truly. Amen
Be Devoted to One Another in Love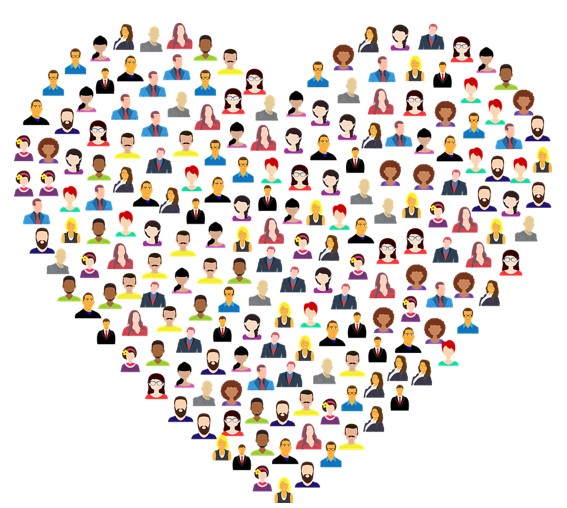 John 12:10 says  "Be devoted to one another in love. Honour one another above yourselves."
Gracious God, we lift before you this morning, all those involved in charitable giving; Those who couldn't run the London Marathon yesterday but ran round their homes, all the Scouts who could not march on St George's Day, but are walking  a mile to create a united walk to the moon. Lord God, we know that many people rely on the work of charitable organisations, who at the moment are struggling to raise funds because of the lockdown. We thank you for those who continue to find creative ways of tackling this problem, for those who continue to donate and for all the charitable organisations who continue to strive to find a way forward. Please bless the witness of all those people who give so that others might live  knowing they are loved, valued and cared for.  Amen.