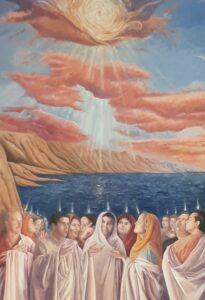 …God's love has been poured out into our hearts through the Holy Spirit who has been given to us.
Romans 5:5 NIV
Gracious God, we praise you for the gift of your Holy Spirit. We thank you for the everyday symbols of fire, water and wind, that remind us of your presence here with us through your Holy Spirit.
Gracious God, pour out your love on us and bring us closer to you. As we wash our hands, or feel the wind on our face, remind us that we can draw on your grace and strength every day in every decision, in every situation. We thank you for the hope we have in Jesus; the hope that sustains us both now and into the future.
In your great love, give us the words and opportunities to share our faith, that all may know the eternal love of Jesus our Saviour. Amen
Ruth Rushworth