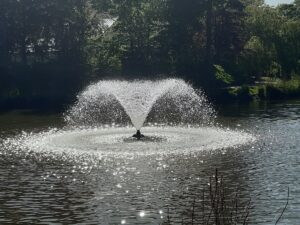 Every good and perfect gift is from above, coming down from the Father of the heavenly lights……And we, out of all creation, became his prized possession.
James 1:17 NIV 1:18 NLT
Gracious God, we look at this picture of a fountain, pouring forth droplets of water, each one sparkling in the spring sunshine. We see each droplet touching the water and spreading out in a ripple effect of light across the lake.
We thank you that every one of us is equally valuable, precious and wholly and dearly loved by you; there is no hierarchy in your kingdom.
We praise and thank you for the gift of life and love, given freely to us through Jesus.
Thank you too for the gifts, talents and skills you have given to each of us. We may think that we have little or nothing to give, or that what we do has little impact or significance. However, you assure us that nothing we do in your name is ever wasted. You bless and multiply all we offer you, in ways we may never know.
Gracious God, as we pray and work individually and collectively, may the ripples of your love spread throughout the world, touching especially those who feel lost, isolated and forgotten.
Ruth Rushworth