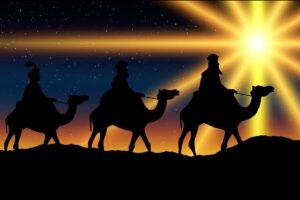 (image:www.pixabay.com)
Matthew 2: 10-12
"When they saw the star, they were overjoyed. On coming to the house, they saw the child with his mother Mary, and they bowed down and worshipped Him. Then they opened their treasures and presented Him with gifts of gold and of incense and of myrrh."
Gracious God, as we celebrate the feast of the Epiphany we reflect upon the journey of the Magi, the wise men, who had waited and watched for many years for the birth of the child who would bring light into our world. We recall how they gave him precious gifts of gold, frankincense and myrrh, gifts fit for a King. And we gaze upon the star that lit the sky, piercing through the darkness and radiating light. In the coming days, help us to keep our hearts and our minds focussed on the light of Jesus. Help us to be reassured of His presence in our world, of His love that has the power to shine in the dark places of our world today. Lord God, this Epiphany may you reveal to us Jesus, Emmanuel, God with us. Amen.