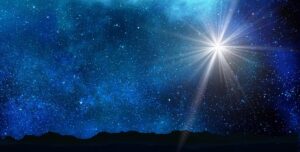 (image:www.pixabay.com)
Isaiah 9:2
"The people walking in darkness have seen a great light; on those living in the land of deep darkness a light has dawned".
Gracious God of wonder and mystery, we wait in anticipation and expectation to celebrate the coming of Your Son, Jesus, into our world, Emmanuel, God with us. On the eve of this Holy Night, help us to remember that on that starry night, over 2,000 years ago, a miracle occurred. True love came into our world in the form of a baby boy, a baby who grew to be a man who witnessed to  Your grace, Your love for us, so that we might experience the wonder of Your presence with us. And so, Lord God, we thank you for the night in which love shone down. This Christmas time, amidst the uncertainty and insecurity of everything going on around us, help us to  believe and trust in the miracle of Your coming into our world. Help us to believe and trust in the miracle of Your love at work in our world today through the power of Your Holy Spirit. May that love continue to shine in a world in need of hope today, hope being the assurance of your presence in every situation, however difficult it may be. In the name of the child born to be our friend, our Saviour, and our King, this Christmas Eve we pray, Amen.