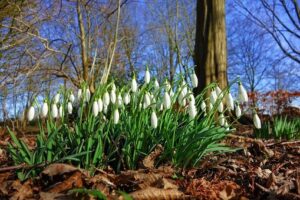 Deuteronomy 7:9 (NIV)
'Know therefore that the Lord your God is God; he is the faithful God, keeping his covenant of love to a thousand generations of those who love him and keep his commandments'.
Gracious God, as we begin a new week, we come to You. Life continues to be challenging for us with uncertainties and worries, with issues that affect our physical and mental well-being and yet we know that we are assured of Your presence with us in any situation, we are assured of Your strength and guidance and we are assured of Your compassion and Your love for us. As the dark days of winter begin to lengthen, as we see snowdrops in bloom and daffodil shoots appearing on grass verges, we are reminded that Spring is coming. As these floral wonders of Your creation reflect new life and Your continuing presence in our world, give us the faith and the confidence to continue to place our trust in You, to keep hope for the future and may the beauty of Your creation refresh our inner-being and cause our hearts to smile. In the name of Jesus, our Prince of Peace, Hope and Love we pray, Amen.